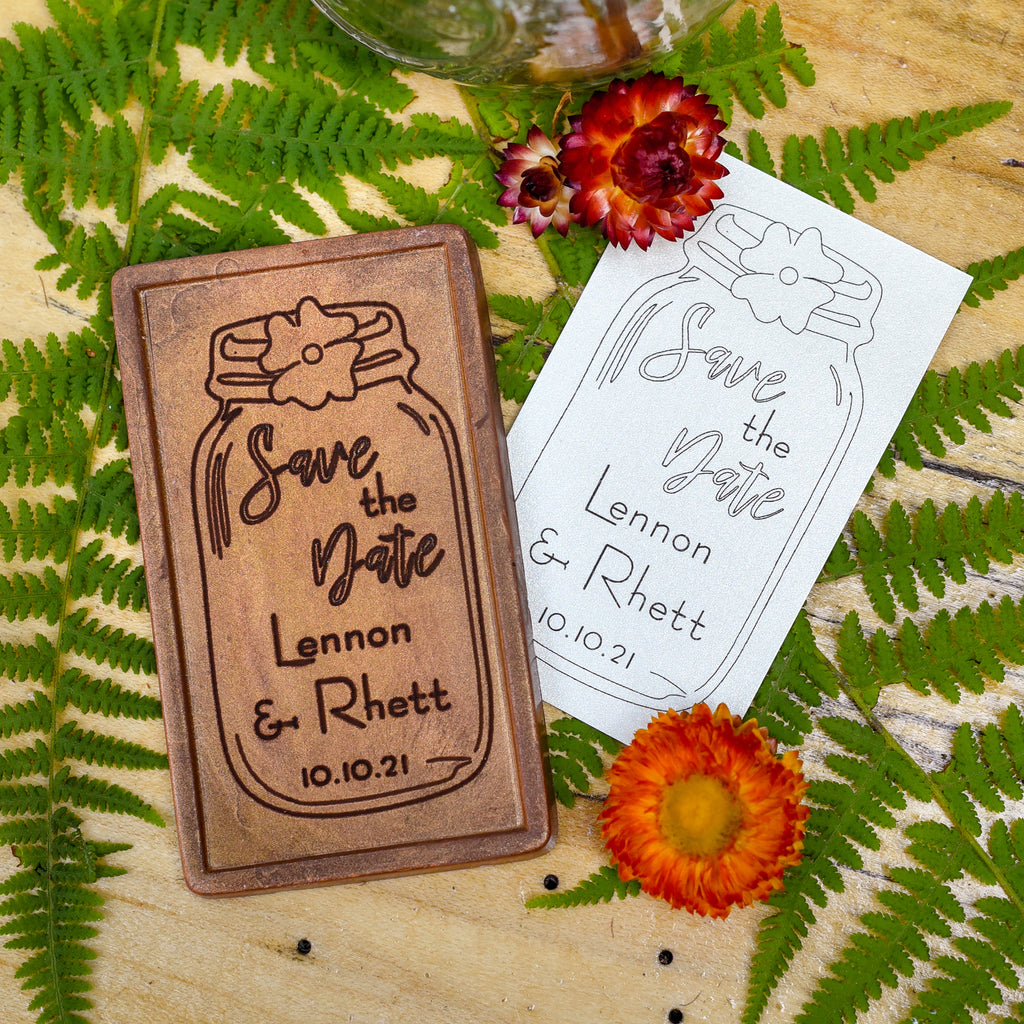 If you are a chocolate-loving couple, then it's a no-brainer to want to incorporate your favorite sweet into your wedding. We've rounded up our favorite creative ways to get your chocolate fix on your big day.


Save the Dates & Seating Cards

Save the Dates and invitations set the tone for the wedding, and if you want to make a great impression on your guests, sending an edible version is the way to do it. At Noteworthy, we can engrave any message, in any language, and everyone will happily accept a wedding invite when there is chocolate involved! If you're worried that your guests will eat their chocolate before writing down your date, we can either send two so they have one to save or we can include a paper copy with the same design!

In the same way that the Save the Dates will grab your guests' attention before the big day, seating cards engraved with their name on it will have the same effect when they enter the reception area. Not only will your guests be WOWed by seeing their own name written in chocolate, it's one less thing you have to spend hours on writing out your guests' names one by one. 
Photo by Par La Mer Photography

Give Your Ceremony A Sweet Twist
If you and your beau are a fun-loving couple and you've decided to write your own ceremony, let your personality shine through and get playful with your vows. Yes, weddings are a serious matter, but if you sneak something in, like, "I vow to always share my chocolate with you," to us, that's the statement of an awesome life partner right there.



Signature Drinks

Adding a signature drink to your cocktail hour or bar menu is a fantastic way to add some personal flair into your wedding. We're getting into autumn and cooler weather and that automatically merits cozy drinks! Hot chocolate is a beverage that everyone loves, and it's a perfect way to warm up at an outdoor venue. Add some cinnamon or spices to jazz it up and offer fresh whipped cream as a topper. 

If you prefer a more classic drink, there are fun ways to add chocolate flavor into the old standbys. Take the Old Fashioned, for example. Swap out the Angostura bitters for chocolate bitters. Or try adding a splash of chocolate syrup to a White Russian for a delicious mocha flavor. Did you know there is a variety of mint literally called chocolate mint? It makes for a fun swap in a Mint Julep and it really does taste like chocolate!

Table Numbers & Names

One of the sweet offerings at Noteworthy Chocolates is our chocolate centerpieces. Each tablet of chocolate has the table number prominently engraved on it and you can have fun with the font and the surrounding design elements to match your theme or invitations. These are truly show pieces that guests will be fighting over at the end of the night!

If you don't want to go the total chocoholic route with edible table numbers, ditch the digits altogether and have chocolate-themed table names! Guests seated at the Kisses Table or the S'mores Table will know they're in for a treat. 
---
For more #chocolateworthy inspiration, check out our Instagram feed!
Catch our Creative Director Sam's conversation with Felicia from Wedding Connections of the Hudson Valley where they talk about all things chocolate and weddings!

Our couples have the sweetest things to say about us on The Knot!