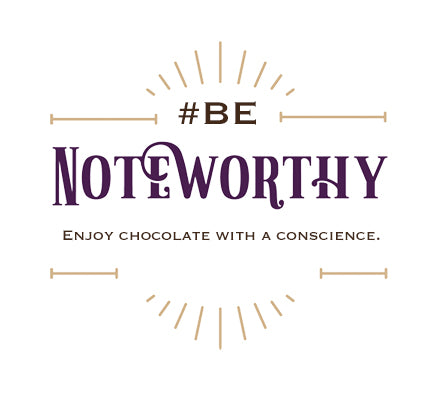 As a startup business, we pride ourselves on upholding pillars of quality and choosing to work with other folks who share our vision in both mission and product. When selecting the chocolate for our personalized notes, we didn't want to use just any chocolate, it's what makes our gifts #Noteworthy afterall. Of course, we wanted it to taste good, but we also wanted to feel good about who we were supporting. 
Guittard Chocolate has been in operation for 150 years, passing down recipes and traditions for five generations. They are committed to sourcing the highest quality cacao and to empowering the farmers who grow it. No farms, No chocolate, right? Guittard Chocolate is Fair Trade Certified and they have a zero tolerance policy for illegal practices, such as child labor or unsafe working conditions, which are unfortunate realities in the cacao industry. They foster education programs for their cacao farmers, including literacy and field training, and they support gender equality so that women can thrive in the business as well. 
Guittard strives for sustainability by promoting the preservation of top quality, healthy cacao plants and also by working to reduce their energy, waste, and water where possible. Even their packaging comes from responsibly managed forests. If all of that wasn't reason enough to choose Guittard, the chocolate tastes absolutely fantastic! Are we allowed to brag on their behalf just a bit more? They use Non-GMO sugar and RBGH-free dairy products AND the chocolate is made in a peanut, tree nut, egg, wheat, shellfish, and fish-free facility! The bottom line is Guittard cares, a lot, and so do we.