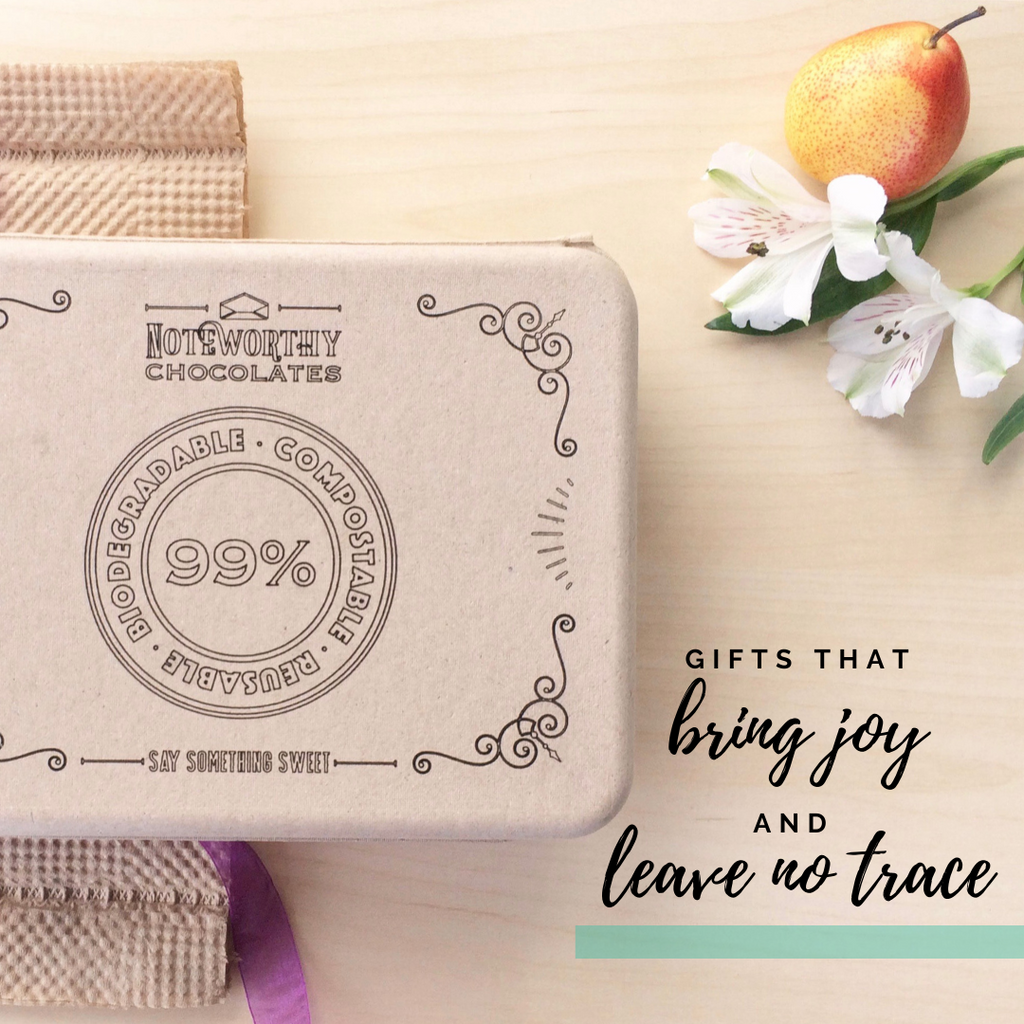 Noteworthy is more than just our name, it's at the heart of everything we do. We chose this name for a reason and it's what drives our vision, our mission, and our decisions. We realize we can't save the world with chocolate (or can we?), but we can do our part to help make an impact by keeping our footprint and plastic use as minimal as possible.
We've carefully designed our packaging experience so that no component sits around once the recipient is done enjoying the chocolate. While we would be absolutely honored if our gift boxes are held on to (they are pretty, aren't they?!), we understand that there might not be room. 
Our eco-elegant gift packaging is both beautiful and biodegradable. On the inside, the bag for the chocolate is made of cellophane, not plastic. It's derived from wood cellulose and is 100% biodegradable. It was super important for us to find a plastic-free alternative for our wrappers. As individuals, we do our best to avoid single-use plastics (like ditching straws and toting reusable cups and bags with us), because we are keenly aware that plastic will be around longer than we are. And quite frankly, that's a scary fact! We all know the best part, the yummy chocolate, will be gone the quickest, but we didn't want everything else sitting around too long either.
Moving outside, the boxes themselves are completely compostable, recyclable, and environmentally friendly, made out of only recycled cardboard and water. We don't use any dyes for the embellishment, it's all engraved with a laser just like the noteworthy message inside, and no adhesives are used to close the box either. So if you don't choose to upcycle the packaging (think as a keepsake box or a seed starter in the spring), feel free to toss it in the compost pile or recycling bin! It will certainly be the prettiest and sweetest smelling thing in there.

In honor of Plastic-free July, we're challenging ourselves to see where else we can get rid of single-use plastics. Will you join us? Here at Noteworthy Chocolates, it's a core value to actively seek out non-plastic alternatives even if they cost more or take more effort to use. We're currently a 99% plastic-free company, and we'd love to get that number to 100%!